Register today for a special multi-chamber networking event from 8 a.m. to noon on Thursday, Nov. 1 at Evergreen Country Club.

Ten area chambers will come together to bring you an opportunity to increase your network. Attendees will get a chance to meet chamber members from East Troy, Lake Geneva, Waterford, Elkhorn, Richmond Spring Grove, Geneva Lake West, Delavan-Delavan Lake Area, Burlington, Twin Lakes Area and Whitewater during four structured "flips" throughout the session.

It's been called the corporate equivalent of speed dating!

The cost is $25 per person, which includes breakfast and lunch. Registration is limited to the first 200 people. Advance registration is required through the participating chambers before noon on Oct. 25 with only two participants allowed from each business.
Click here to register.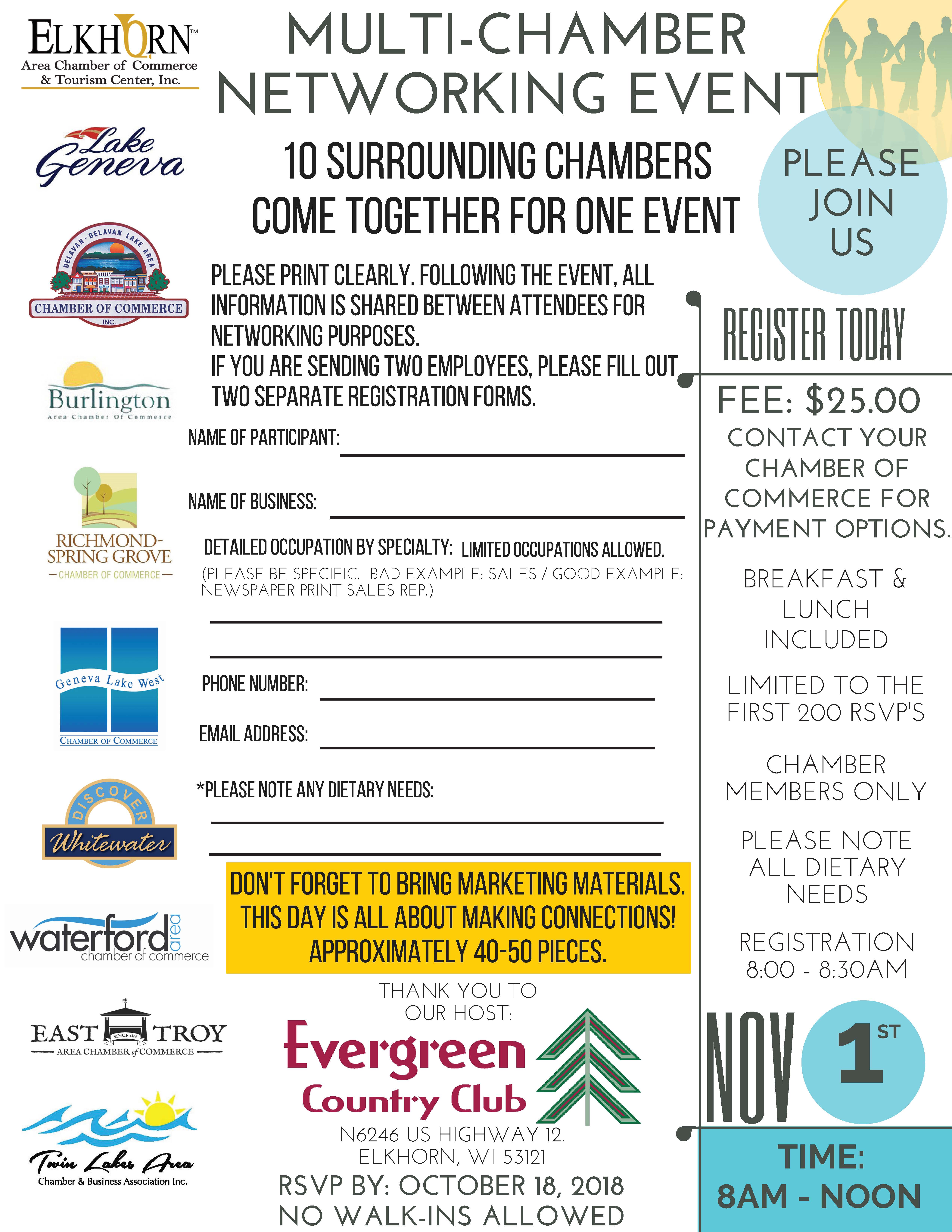 NEW LIMITED OCCUPATION CATEGORIES

After every event, we send a survey to attendees, looking for feedback in order to make sure this annual event continues to grow and go in a positive direction.

So, with that said, after our event surveys, we have decided to make a few changes. In order for these changes to be successful, we need one thing from you, and that is for you to be very specific in your Job Occupation. For example if you are in Sales, don't only write sales, describe the type of Sales, ex: Newspaper Print Sales Rep or Regional Sales Rep for Heating & Cooling.

Don't forget to bring 50 pieces of your own marketing materials to hand out at each table rotation!

For more information, contact the East Troy Area Chamber of Commerce at (262) 642-3770 or vanessa@easttroy.org.