Enjoy downtown East Troy, while you sample unique wine selections and cheese pairings by Hill Valley Dairy & enjoy local artist showcases from 5 to 8 p.m on Friday, Nov. 2.
WINE LOWDOWN
20 wines • 10 locations • Hill Valley Dairy LLC cheese
Tickets are limited!
Wristbands are $30 each in advance and $35 at the door and will include: 20 sip tickets to sample wine curated by Certified Wine Educator Melanie Denhart of The Global Glass at 10 locations throughout the evening, cheese pairings by Hill Valley Dairy, commemorative tasting glass and raffle tickets.
*Must be 21 years of age or older with valid ID to participate
Check in process: On the day of the event, attendees need to register at East Troy Village Square Park, 2881 Main St. Registration opens at 4:30 p.m. Check in area will be in designated area of East Troy Village Square Park.
BUY WINE WALK TICKETS AT EAST TROY VILLAGE SQUARE PARK
Buy your Wine Walk ticket now and show proof of purchase for deals on your first drink at The Hive Taproom- $5 glass of mead or $5 sampler flight on 11/2 only.
All proceeds will help support the continuation of East Troy's First Fridays event series.
ART LOWDOWN
The event will feature local artists showcasing their work at shops and businesses in downtown East Troy. DJ J.C. Hanna will perform in the bandstand at East Troy Village Square Park.

In addition to the art exhibits, there will be food trucks, farmers market, artisan & craft vendors, workshops, temporary pop-up projects, children's activities, theater art performances and other displays designed to promote and celebrate the arts in the East Troy area. (No ticket or wristband required to participate in the art festivities.)
Confirmed Food Trucks:
Dine With A Swine/ BBQ Shack
Meat on the Street
Olano's Empanadas
Grass Parking:
Pedro's Authentic Mexican Cuisine
Tudo Sabor Brasil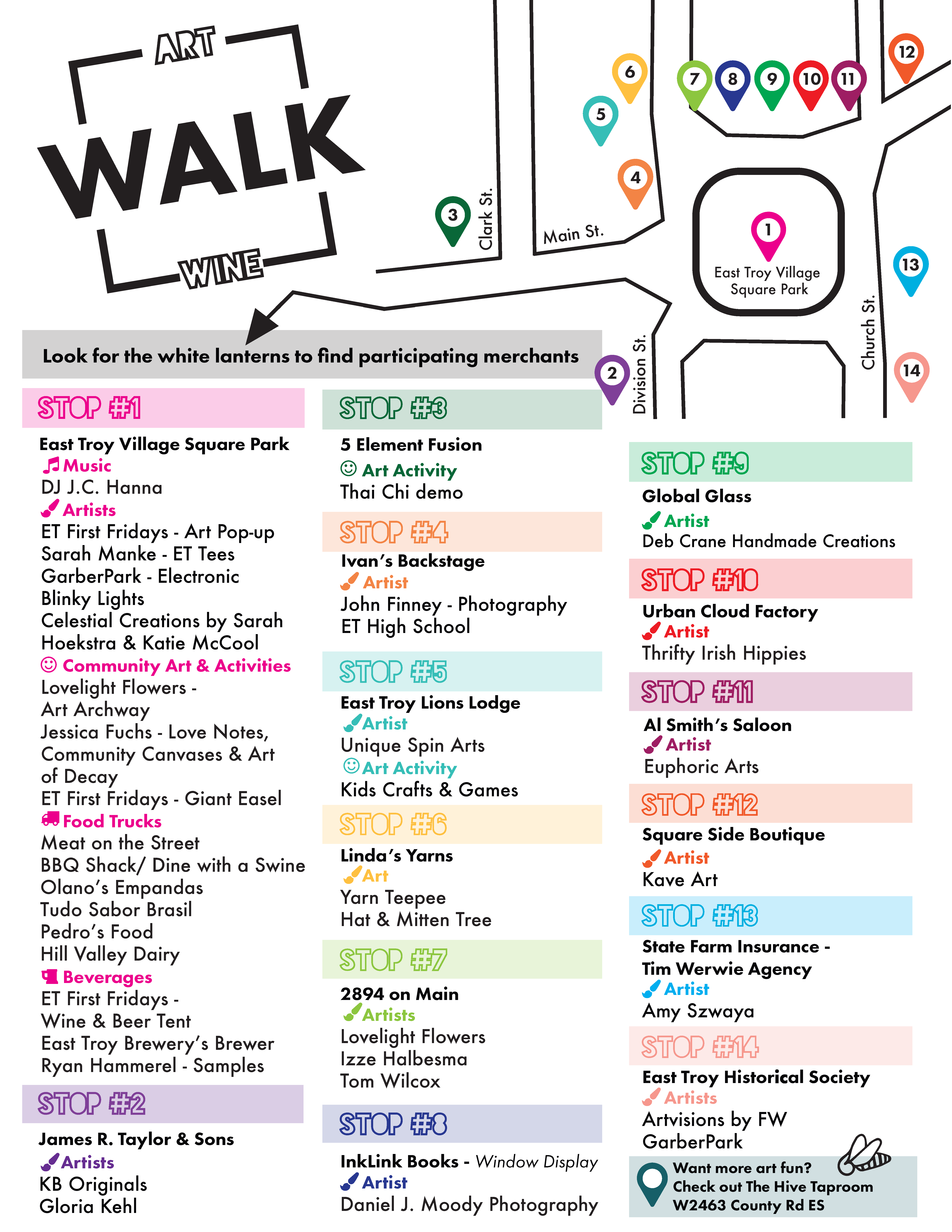 ART WALK LOCATIONS
Look for white lanterns to find participating merchants.
1. East Troy Village Square Park, 2881 Main St.: featuring DJ JC Hanna, community art projects, farmers market vendors, food & wine
2. James R. Taylor & Sons, 2115 Division St.
3. Ivan's Backstage, 2093 Division St.
4. 2894 on Main, 2894 Main St.
5. East Troy Lions Lodge, 2077 Division St.: featuring kids crafts
6. InkLink Books*2890 Main St.
7. Al Smith's Saloon, 2878 Main St.
8. Square Side Boutique, 2874 Main St.
9. State Farm Insurance- Tim Werwie Agency, 2104 Church St.
10. East Troy Area Historical Society, 2106 Church St.
11. Linda's Yarns, 2017 Division St.
12. 5 Element Fusion, 2920 Main St. featuring a Thai Chi demonstration
* window display