Photos with Santa
Professional photos with Santa and Mrs. Claus will be available following the tree lighting after 6:30 p.m. in the bandstand at East Troy Village Square Park. Photos sponsored by 2894 on Main & Dither Studio and all participants will get a digital copy of their photo.
The cost is $8 with proceeds to benefit the East Troy Food Pantry.
Avoid the wait in line this year.
Here's how it works: You check in at the photo area, located on the south side of the bandstand at East Troy Village Square Park. Our volunteers get your name, enter the information into our system and then give you a number with an approximate wait time.

Linger outside, make some s'mores, decorate a cookie or hear music by Cork N Christmas Carols inside Ivan's Backstage or check out the offerings at one of the establishments on the square until your number appears at easttroy.org indicating it's your turn for photos.

Line status updates will be available at http://easttroy.org/santa/status/

Check out the specials that will be available to all photo participants: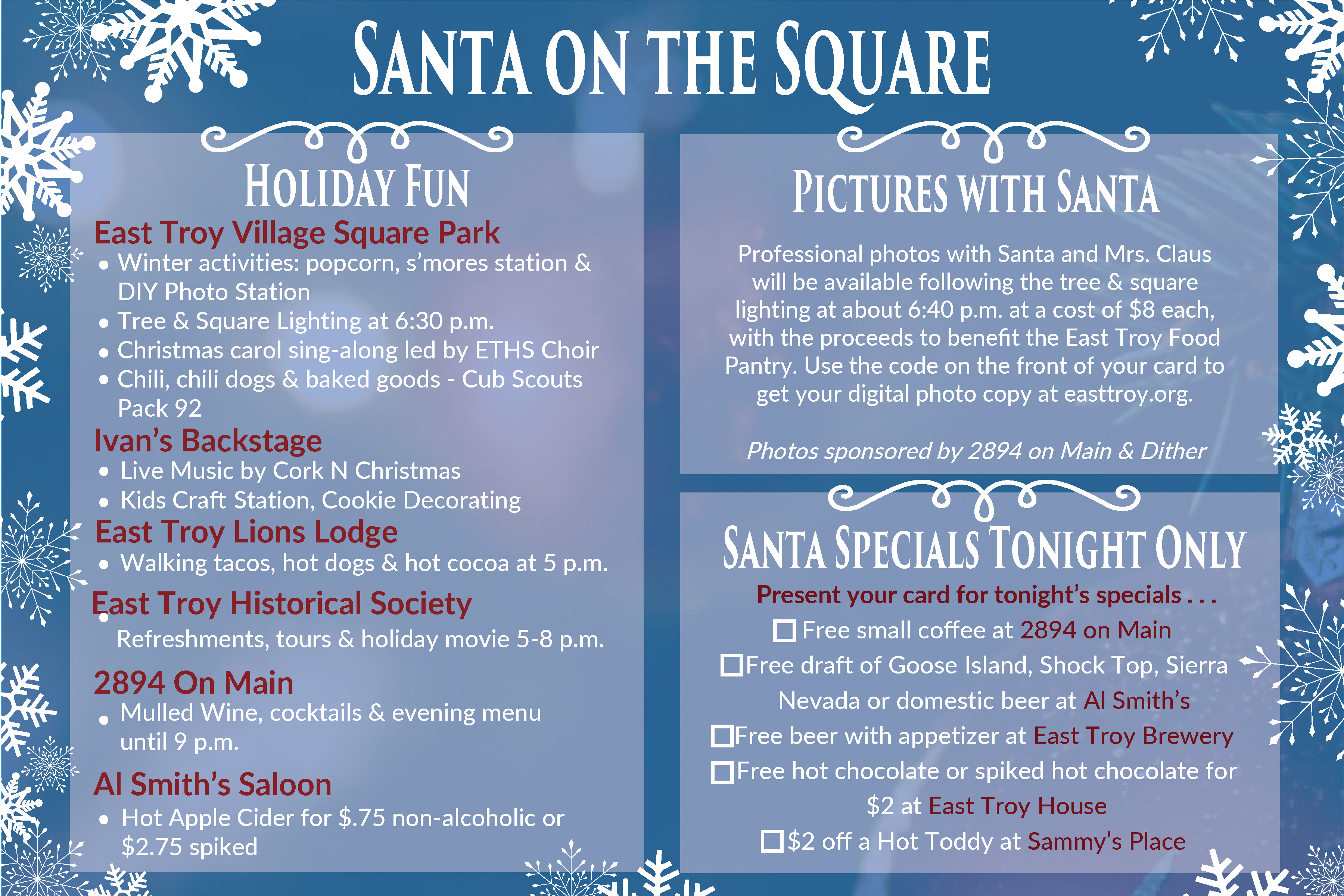 East Troy Holiday
Decorating Contest


The East Troy Area Chamber of Commerce will host its fourth annual holiday decorating contest for local businesses and residents.

The business contest is open to all local businesses with a storefront and is not limited to Chamber members. The resident contest is open to all homes in the East Troy Community School District.

Businesses and residents are encouraged to decorate their storefronts and homes in the spirit of the holidays and will be eligible to win a prize and special recognition for their efforts.

This year's entries will be evaluated by judges and the public. The voting & judging begins Dec. 9 and will run through Dec. 20. Winners will be announced on Wednesday, Dec. 25 on easttroy.org.

Prizes include free advertising and special recognition for businesses and $200 for residents.
Thanks to our 2019
Corporate Partners!