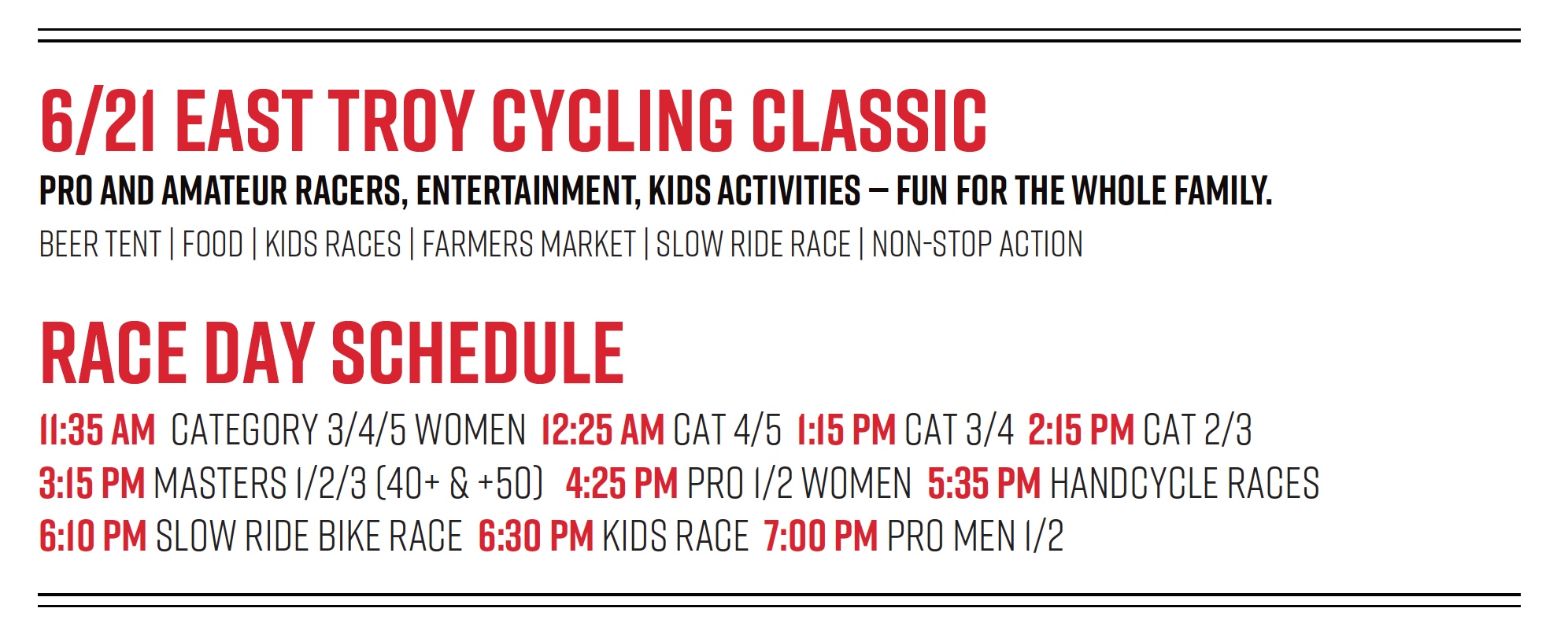 The largest competitive cycling event in the United States, the Tour of America's Dairyland, will make its eighth stop in East Troy on Friday, June 21.
The East Troy Cycling Classic begins at 11:35 a.m. with nearly nine hours of high-energy professional cycling around the East Troy Village Square and nearby streets.
The event features live music, kids race, East Troy Farmers Market, an ESPN radio broadcast and local vendors offering a variety of food items and beer, soda and water. Many surrounding businesses get in on the action with race day specials and bike themed items.
The East Troy race start and finish will be on the east side of the square (2096 Church St.). The cyclists will ride laps around the half-mile course between 10:45 a.m. and 8 p.m. for timed races that range from 40 to 90 minutes.
The race will shut down streets on the course, but local businesses will remain open. Parking will be available in the Chester Byrnes lot, 2031 Division St., and a golf cart shuttle will be available.
Admission is free and spectators may watch the cyclists whiz by once every three minutes from anywhere on the racecourse.
ABOUT THE RACE
The title sponsor for the East Troy Cycling Classic is the Dennis and Janice Klumb Family Foundation, which put up half of the bid fees to host the race. The East Troy Area Chamber of Commerce serves as the local host, with funding for the balance of the fees donated by other local and regional sponsors.
ToAD 2019, which is celebrating 11 years, runs Thursday, June 20 through Sunday, June 30 and features criterium-style races daily in different Wisconsin communities.
ToAD has become one of the most popular bike race series in the sport earning an outstanding reputation for delivering a world-class race experience for both participants and spectators.
In 2018, nearly 1,000 racers from more than 40 states and 15 countries participated in ToAD with an average of 450 racing daily.
Overall an estimated 100,000 spectators attended races and other special race-day events in host communities.
NEW RACE ROUTE