New Location:
The Hive Taproom, W2463 County Road ES


We're continuing the East Troy Farmers Market from 4 to 7 p.m. on Friday, June 25 at our new location, The Hive Taproom, W2463 County Road ES, featuring an expanded selection of vendors and exciting activity schedule.
The market features local vendors who make, raise or grow the products they sell. Vendors are local people with local items. At this market, expect to find cheese, local beef, baked goods, flowers, kombucha and more.
"We're excited to debut the market at The Hive Taproom. Offering an environmentally sustainable and locally-focused beverage experience, The Hive is a natural fit as a market partner," said Vanessa Lenz, East Troy Area Chamber of Commerce Executive Director. "This season will feature some new vendors, food trucks, as well as live music and a spotlight on some of our local nonprofit organizations."
FEATURED VENDOR: HILL VALLEY DAIRY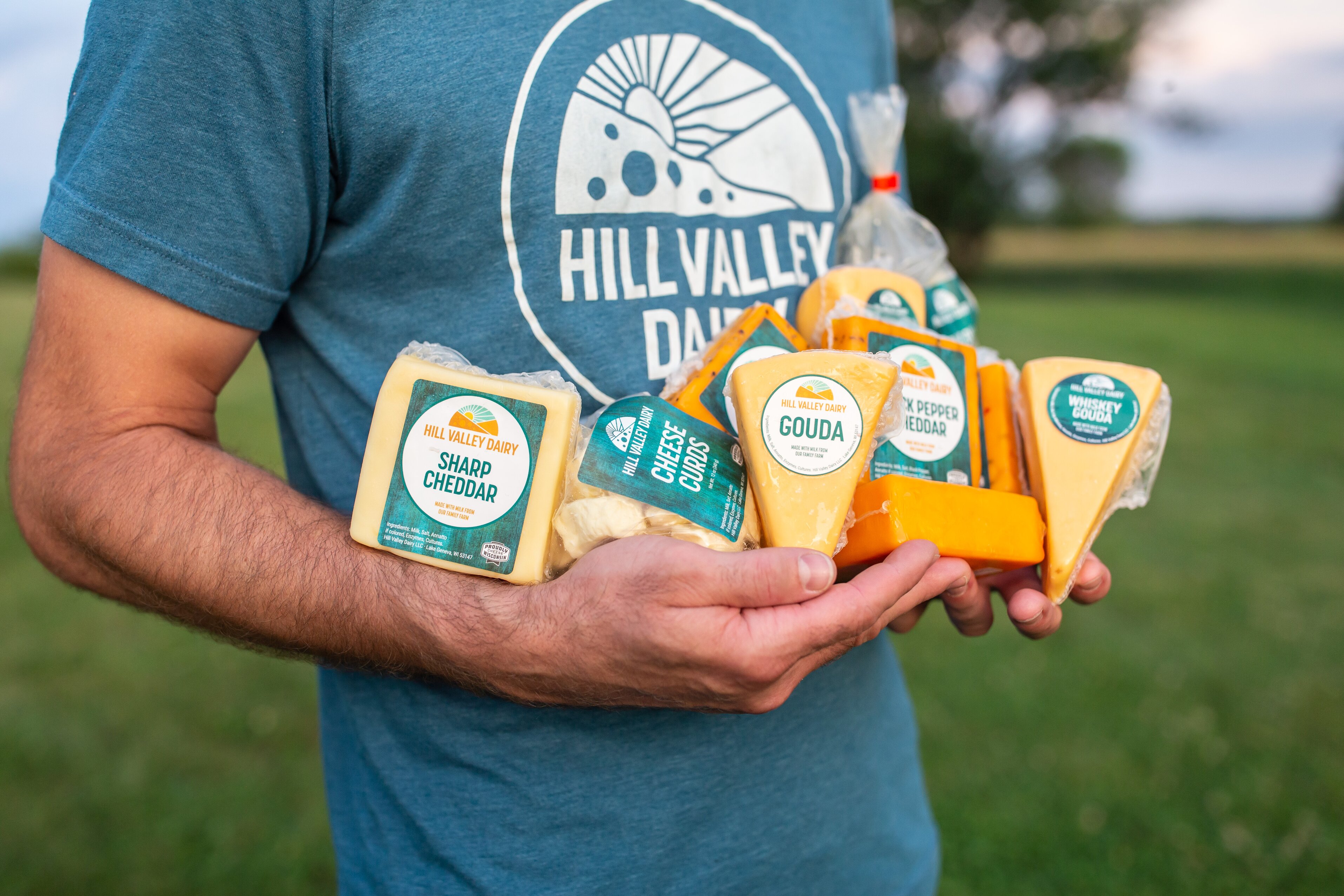 Starting with its foundation of fresh cheese curds made with its family dairy's milk with other high quality milk from other local farms, Hill Valley Dairy has developed a line of artisan cheese curds, cheddar and gouda that will tempt you back to the cut-ting board, again and again.

From the bottom-up, milk-to-market, owners Ron and Josie Henningfeld (who grew up in East Troy) are focused on connecting local people to local products.
Cheesemaker Ron always looks to develop cheese that makes people happy. Ron said he wants his cheese to be an everyday staple in people's homes and not just that "once-in-awhile" cheese you buy for special occasions.
He develops his cheese to be flavorful and fun; from the 'squeaky' cheese curd, to the whiskey gouda, Ron's hope is that you find enjoyment from the first bite to the last.
Hill Valley Dairy cheese is currently available for whole-sale and retail purchase. In addition to Friday's East Troy Farmers Market, Hill Valley Dairy cheeses can be found locally at 2894 on Main on the square and Frank's Piggly Wiggly in East TRoy.
For more information, visit hillvalleydairy.com

THE HIVE TAPROOM
After you shop, stop in to The Hive Taproom for an experience as unique as its rotating batches of session meads. The Hive's cold, dry, and carbonated beverages are perfectly refreshing, and are available on tap and in cans-to-go.


For more information, call (262) 642-3770 or email vanessa@easttroy.org
VENDORS WANTED
Vendors can secure their spot for the season in advance for an early bird rate of $75 per season or $15 per market. For more information, call (262) 642-3770 or email vanessa@easttroy.org.
2021 East Troy Farmers Market Dates

Friday, June 25- Dairy Day
Friday, July 2- Try It; You'll Like It
Friday, July 9- Makers Market
Friday, July 16- Middle of the Season Day
Friday, July 23- Barnyard Fun
Friday, July 30- Sweet Treat Spotlight
Friday, Aug. 6- Dog Days
Friday, Aug. 13- Flower Day
Friday, Aug. 20- Kids Vendor Day
Friday, Aug. 27- Honey Bee Day
Friday, Sept. 3- Business Day