We're continuing our Takeout Thursdays adventure this week with Sauced, a locally sourced, seasonally inspired, 100% wood fired Neapolitan style pizzeria.

Takeout Thursdays is a great way to show support for our local restaurants.
Every Thursday, we'll be inviting you to dine with a featured local eatery & give them a sold out day!

To participate, click the menu link here or below to order from Sauced Pizzeria this Thursday, April 22 between 3 and 8 p.m.
Sauced is East Troy's newest pizza obsession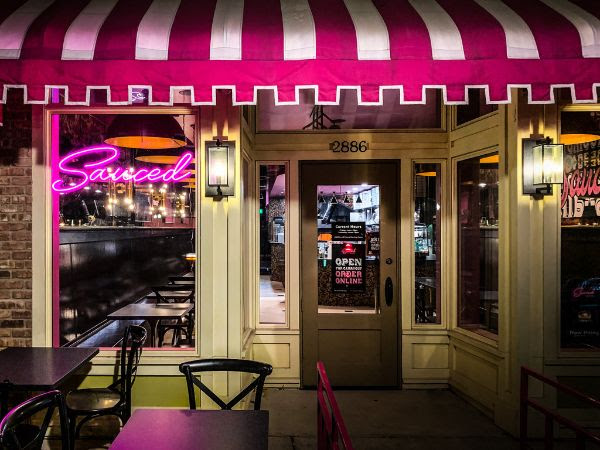 by Vanessa Lenz
East Troy Chamber Executive Director
It's been a little over year since it opened, but Sauced is already considered a must-stop on any serious food lover's journey.
The long-anticipated pizzeria, located at 2886 Main St., has brought a new vibrancy to the East Troy downtown square's recent renaissance.
The two guys behind Sauced, Justin and Jamie Rohrer have some serious East Troy credentials. Finalizing the last steps in the renovation of their new restaurant was the next phase of an ambitious glow up of most of the north side of the East Troy Village Square by the Rohrer family.
Justin, a self-taught pizzaiolo (pizzamaker), worked for months to make his vision of bringing Italian-inspired pizza to the East Troy area a reality.
He developed recipes adhering to strict criteria in order to make an authentic Neapolitan pizza.
"We want people to have that quintessential pizza from Naples' sensation with the signature thin, slightly chewy crust, organic tomatoes and mozzarella," Justin said.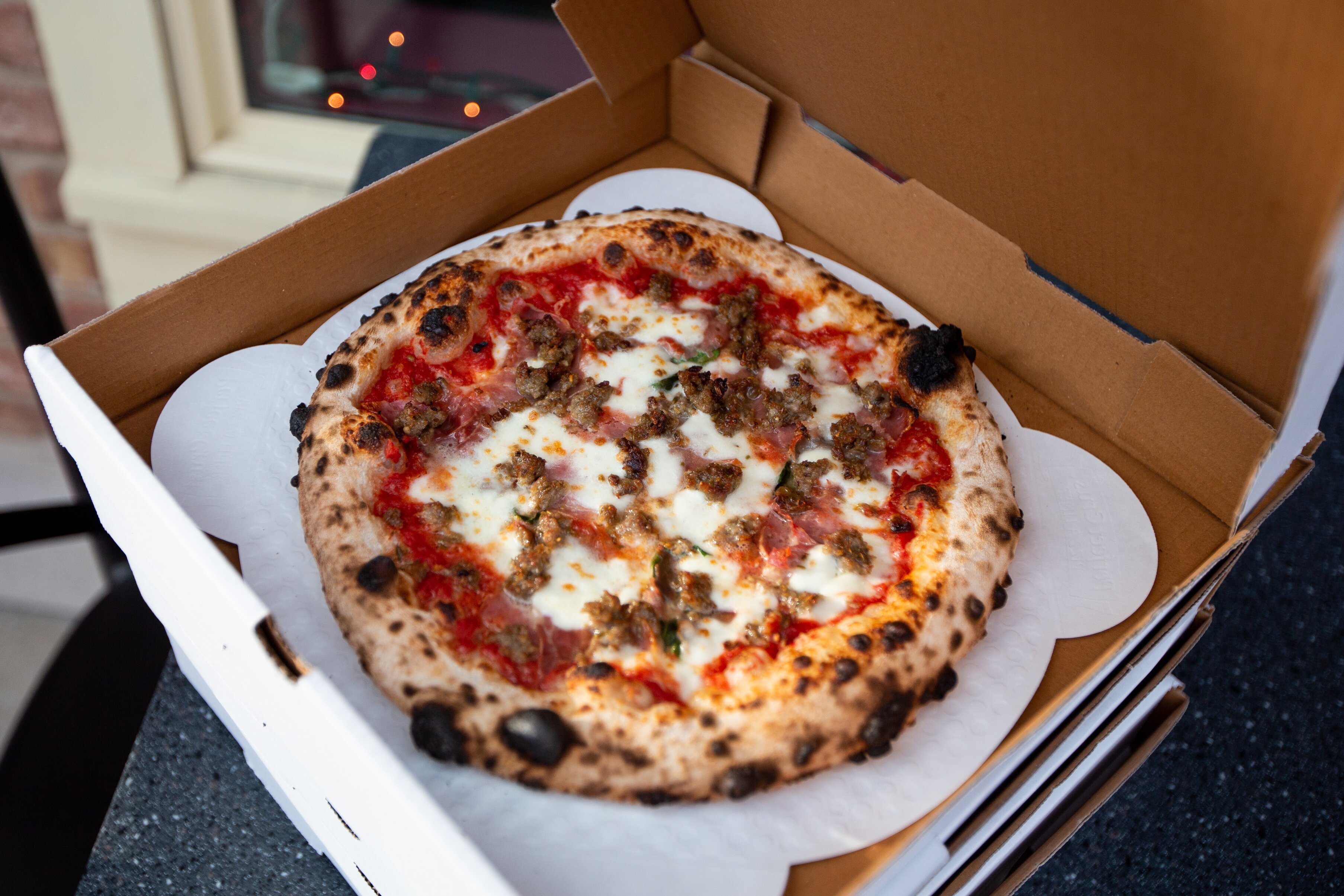 For the Meat Lovers: Carne - Prosciutto di Parma, Sausage, and Soppressa (salami) Organic Red Sauce, Fresh Mozzarella, Basil and Parmigiano-Reggiano
Mouth-watering Pizzas
Sauced's locally sourced, seasonally inspired pizzas are cooked in a 100-percent wood fired oven, creating perfectly flavored crusts that pizza dreams are made of.
Sauced's pizzaiolos give great attention to the pizza making process, following precise processes for ingredients and preparation.
The dough is essential to the perfect pie and consists of only four simple ingredients: flour, water, salt & fresh yeast.
The other ingredients are also simple with mouth-watering combinations like a Margherita with fresh mozzarella & basil, the crowd-pleasing Prosciutto Verde with arugula, as well as Carne featuring Prosciutto di Parma, House Fennel Sausage and Soppressa (salami).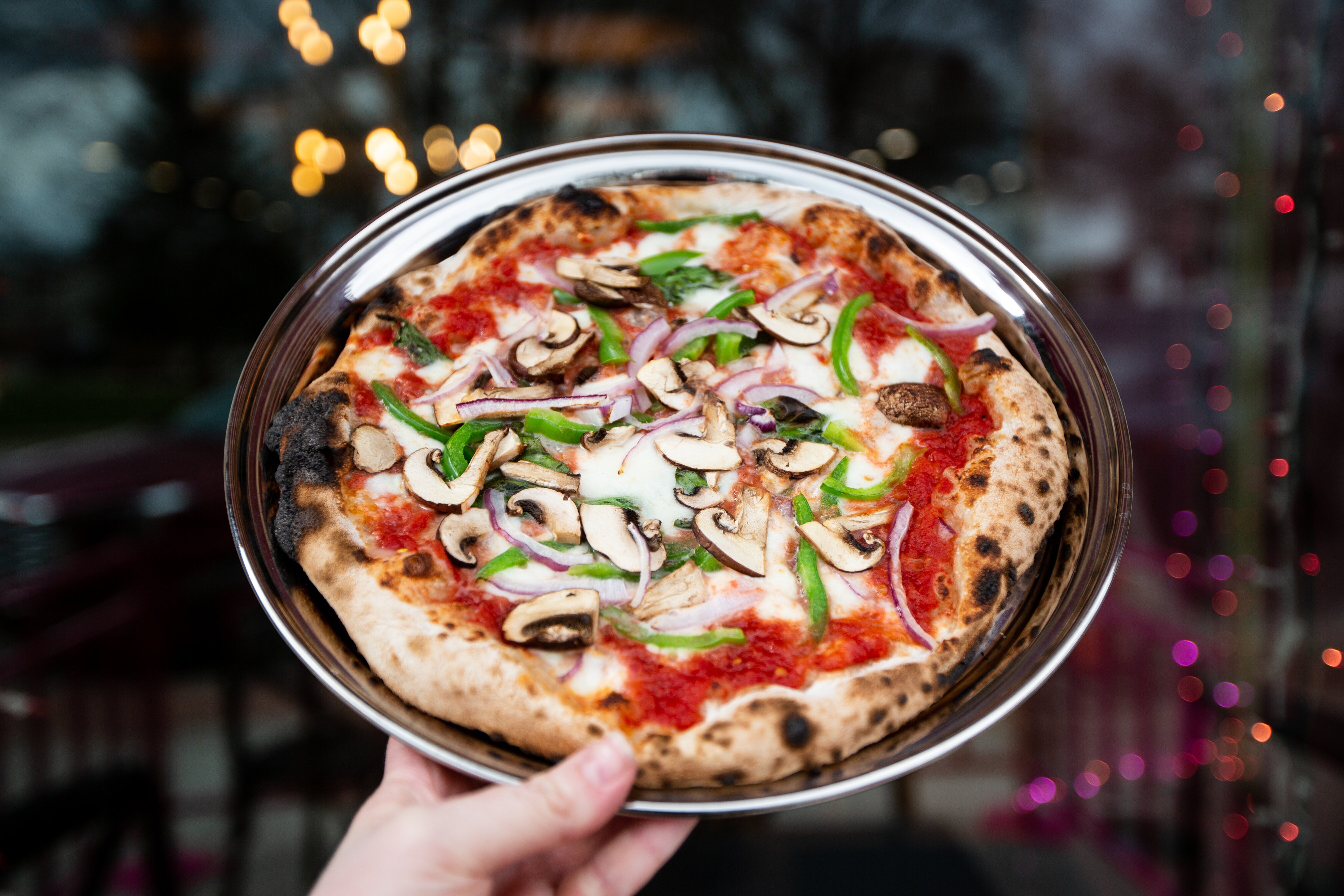 For Earth Day Partiers: Verdure - Organic Red Sauce, Fresh Mozzarella, Basil, Parmigiano-Reggiano, Red Onions, Green Peppers and Local Organic Mushrooms
The pizzas measure 11 inches and feed one-two people for a personal and magical experience.
Guests can also enjoy house-made, organic gelato with traditional flavors like Chocolate, Vanilla, Strawberry, Cookies and Cream and Banana.
It's Patio Season
We're big fans of dining outdoors in East Troy. Because, really, there's nothing better (especially when it comes to Sauced's prime spot overlooking East Troy Village Square Park.)
Sarah Manke, pizzaiolo, said in addition to opening their outdoor seating, they are excited to add additional hours and menu items this summer.

"We are looking forward to bringing back our favorite parts of the summer season – pizza and gelato on the patio – and continuing our community partnerships," she said.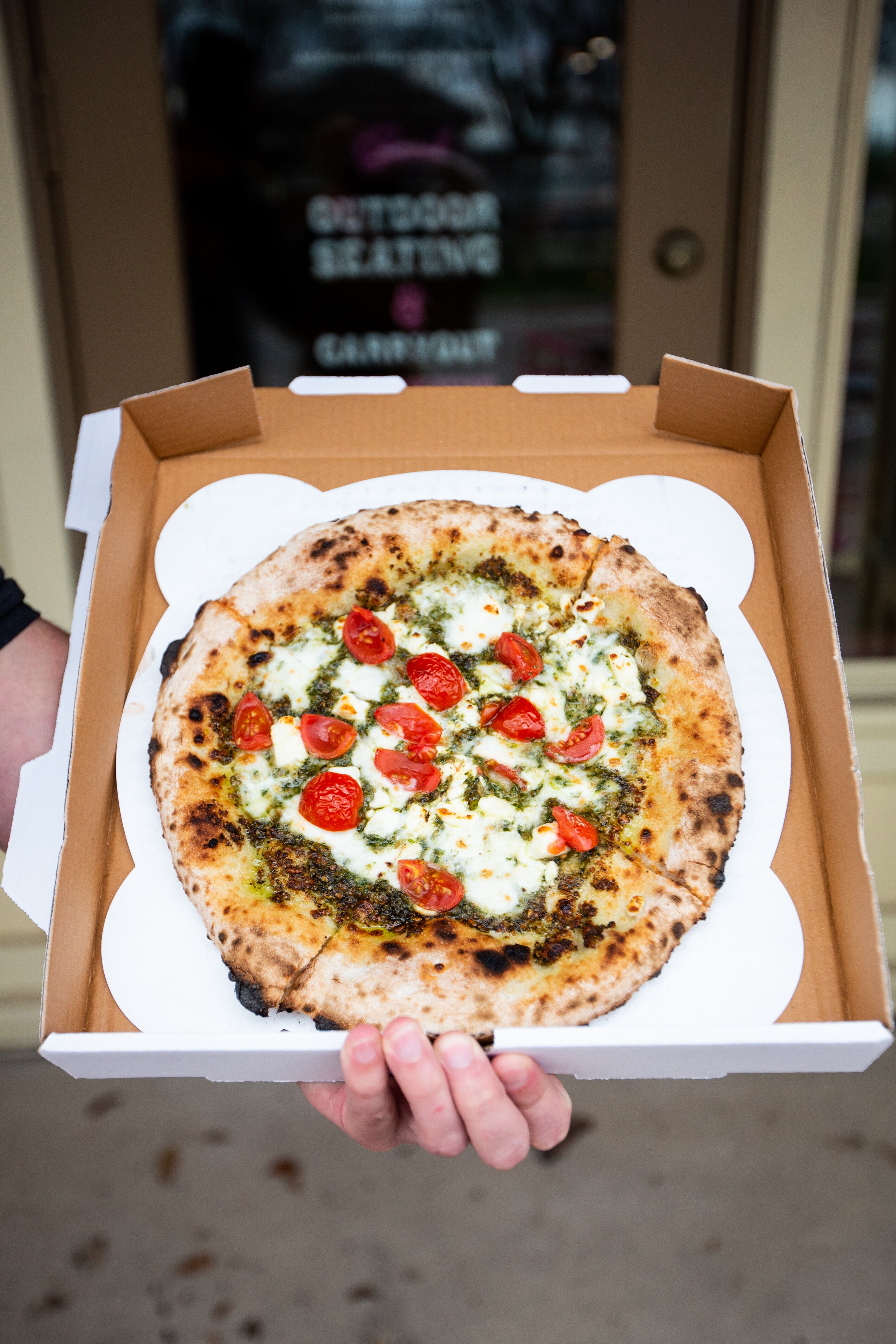 For the Adventurous: Pesto Pizza - House-made Sunflower Seed Pesto, Fresh mozzarella, Feta and Cherry Tomatoes
Since the COVID-19 lockdowns crashed the party in the middle of Sauced's grand opening in March of 2020, they had to get creative to continue to serve top-notch pizzas To Go to its customers.
This included a revamp of Sauced's website, with Jamie developing a custom system to up the convenience factor for online ordering by coordinating customers' arrival with their pizzas coming out of the oven.

The Vibez
You'll notice very quickly when stepping inside Sauced that it looks as good as the pizza tastes.
The fun meets formal design gives customers both the feeling of a place they know very well but have also never seen before.
Sauced has a penchant for pink and gold statement pieces with walls featuring oversized and eye grabbing depictions of menu items and features in the shop.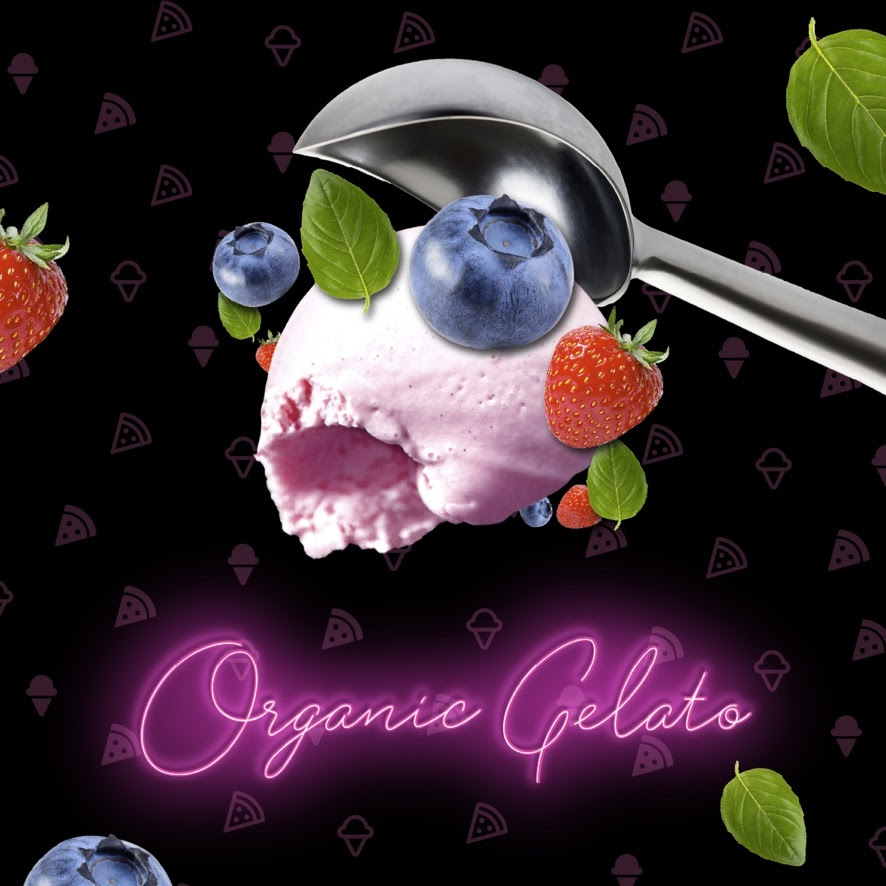 Sauced is featuring new flavors of its house-made gelato with all organic ingredients, including Strawberry, Cookies & Cream, Banana, Vanilla and Chocolate.
Order online at getsauced.pizza for pick up on Thursdays from 3 to 8 p.m. (new hours!), Fridays and Saturdays from noon to 8 p.m. and Sundays from noon to 7 p.m.