EAST TROY LIGHTS
Take a trip to downtown East Troy to see East Troy Lights – a spectacular holiday light show!

The interactive and imaginative light display experience will kick off Saturday, Dec. 4, when Santa comes to East Troy via the 113-year-old East Troy Electric Railroad Santa Parade Train to light the annual Bob Barutha Memorial Christmas Tree.

Lights will continue with timed shows on the hour at 5 p.m., 6 p.m., 7 p.m. and 8 p.m. through Dec. 31. Walk through the lights or see the show from your car by tuning into 90.9 FM.
Watch as the entire downtown East Troy Square sparkles in the night in sync with your favorite holiday songs. Or, take control of the lights yourself and create your own holiday magic!

Find out more at easttroylights.com.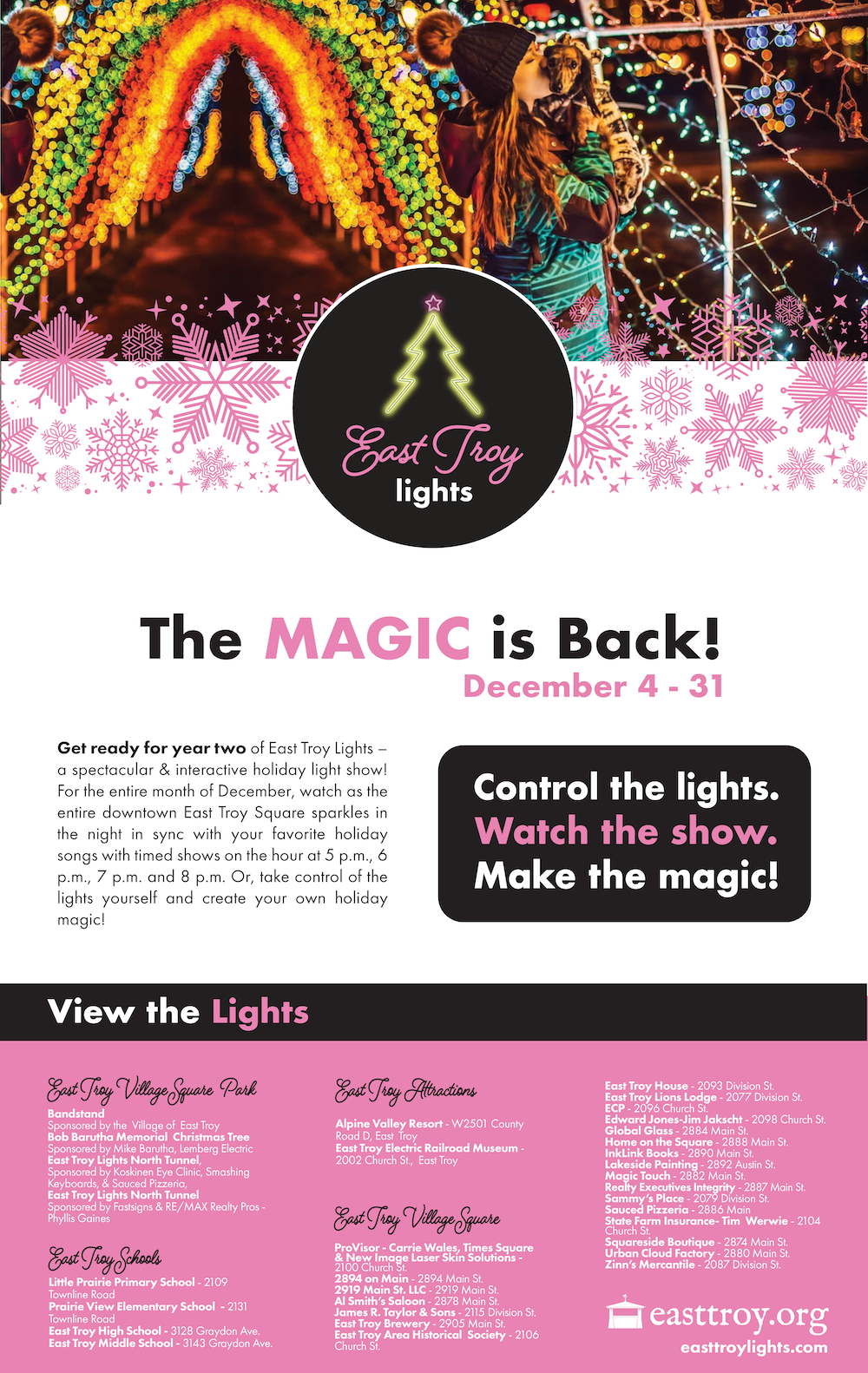 EAT, SHOP & MORE
AT EAST TROY SQUARE
Visit 2894 on Main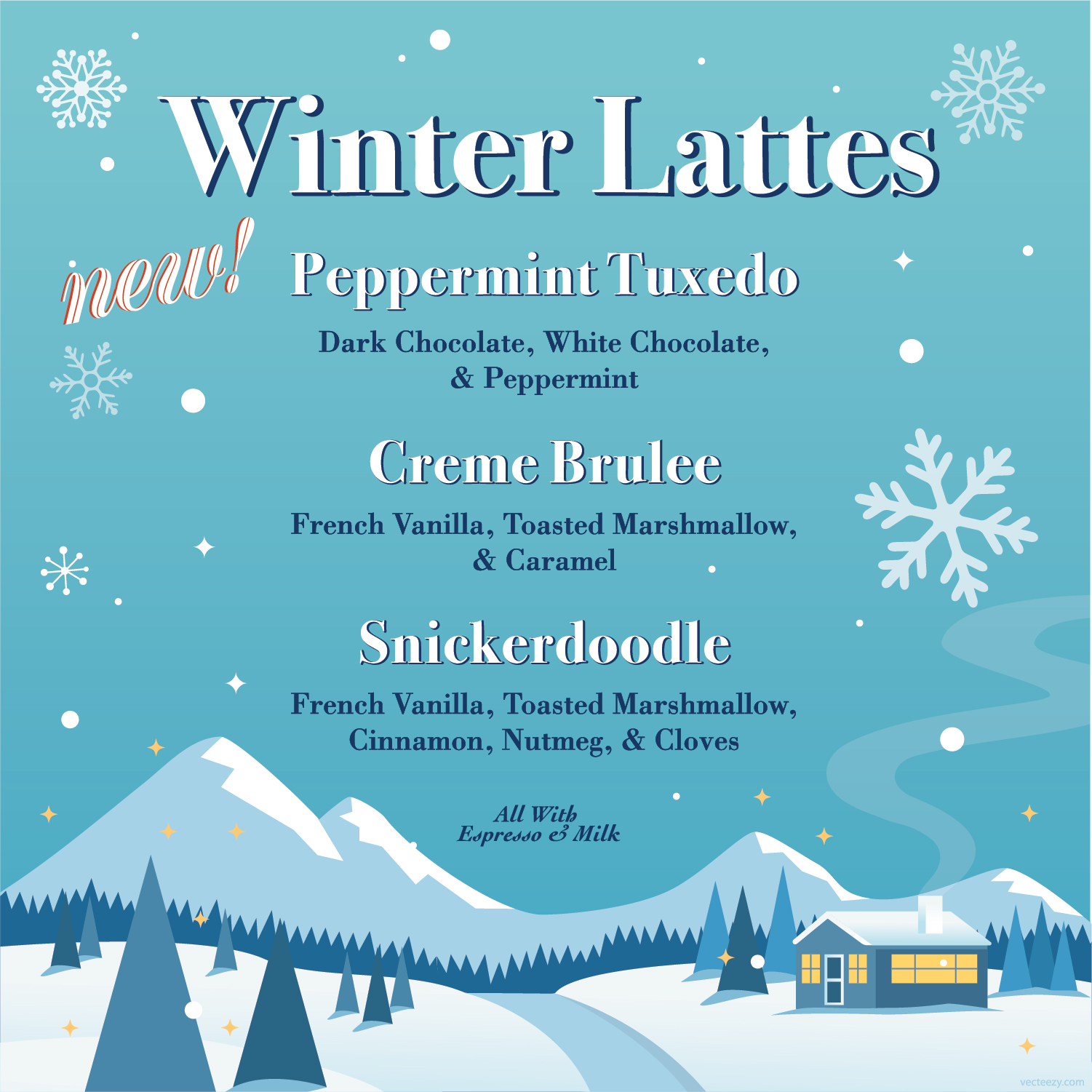 East Troy's café 2894 On Main, located on the northwest corner of the East Troy Village Square, has become much more than just a place to get your daily coffee or a delicious meal.

The historic site, located at 2894 Main St., was redesigned to be an easily accessible community hub.

The food menu focuses on local and organic options, packing in the flavor with rotating soups, hearty sandwiches and vibrant bowls, colorful breakfast dishes (both savory and sweet) as well as seasonally changing salads (loaded with veggies and protein) and specialty items that will keep you coming back for more.

Fans rave about the drink options, with coffee sourced from Stone Creek Coffee (a popular Milwaukee-based roaster) and drinks made with organic milk (with non-dairy options available).

For more information, visit 2894onmain.com. Regular Kitchen Hours: Mon.-Sun. from 8 a.m. to 3 p.m.
Cafe Hours: Sat. & Sun from 7 a.m. to 3 p.m., Mon-Fri from 6 a.m. to 3 p.m.

Try Candy Cane Gelato!
Sauced Pizzeria, 2886 Main St., is now open from 4 to 8 p.m. Tuesday through Sunday for dine in our carry-out.

The locally sourced, seasonally inspired, 100% wood fired pizzeria is also featuring new flavors of its house-made gelato with all organic ingredients, including a Santa Special: Candy Cane!

The Neapolitan style pizzeria serves up mouth-watering combinations like a Margherita with fresh mozzarella & basil, the crowd-pleasing Prosciutto Verde with arugula, as well as Carne featuring Prosciutto di Parma, House Fennel Sausage and Soppressa (salami) and more.

Visit getsauced.pizza for more information.
Cheers! Warm up at
East Troy Brewery


Warm up with some Christmas tunes, an Apple Brandy Hot Toddy and some Hill Valley Dairy Cheese Curds at East Troy Brewery, 2905 Main St.

A must-stop for foodies and beer lovers alike, East Troy Brewery has created a unique, seasonally-evolving menu with tasty options for the whole family where every dish is paired with its house-brewed beers.
For more information, visit etbrew.com.
HUNGRY?
Check out the local dine in and carry-out options on the square: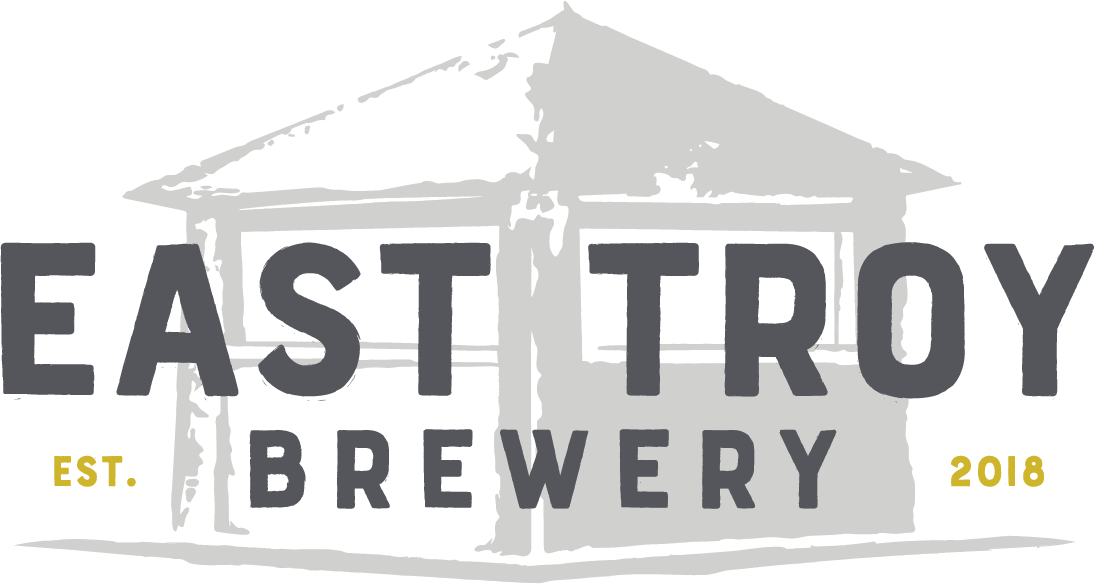 Food Menu



Menu



Sauced A Pizzeria
Where to Grab Drinks:

Drink Menu





Drink Menu




Sauced A Pizzeria





2894 on Main



Al Smith's Saloon



Sammy's Place





The Hive Taproom
(Located 1 mile west of East Troy Village Square)