We're kicking off our Takeout Thursdays adventure this week with award-winning LD's BBQ.

Takeout Thursdays is a great way to show support to our local restaurants.
Every Thursday, we'll be inviting you to dine with a featured local eatery & give them a sold out night!

To participate, click the menu link here or below and order from LD's BBQ this Thursday, March 18 between 11 a.m. and 7 p.m.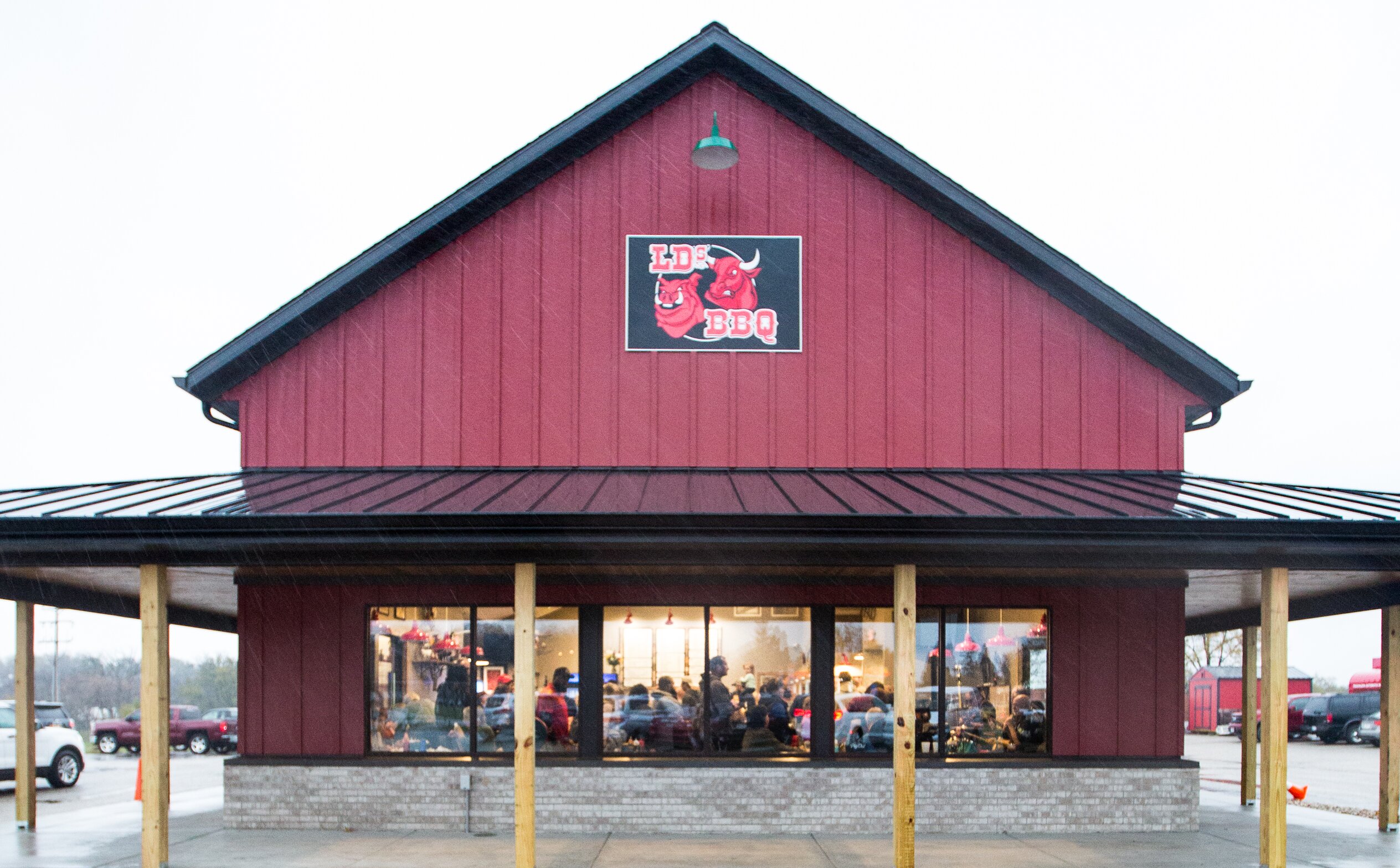 by Vanessa Lenz
East Troy Chamber Executive Director

Catch the tantalizing scent of fresh barbecue wafting in the air? Feeling a sudden pang of hunger? If you're in East Troy, there's a good chance you just passed LD's BBQ at the corner of Main Street and Energy Drive.

The signature restaurant with its eye catching wrap-around porch and exterior painted traditional barn red is a beacon for casual fans and foodies of the famous flavors.

LD's BBQ has built a reputation for supplying southeastern Wisconsin with its fill of signature "Wisconsin barbecue" – a mix of a few regional styles in the United States.

Owner and pit master Leon Davis, who's worked tirelessly to build his BBQ brand since 2011, said what sets his barbecue apart is that it's slow smoked over 100% seasoned oak wood.

"It's long lasting and gives a great flavor," said Davis.

LD's, which has been named Best BBQ in Wisconsin, has a long list of accolades, including Food Network's list of "Best Ribs in Every State," #1 Restaurant in East Troy by TripAdvisor and Yelp, No. 6 on Milwaukee's A list on multiple occasions and was recently noted in Food & Wine Magazine's "Best BBQ Wisconsin."

Davis has been in the service industry his entire life, including 20-plus years as a nurse, but said he is happiest when making barbecue for people.

"I feel that everyone that comes to LD's is just family I haven't met yet. I didn't start a restaurant to get customers but to get to know people and make them happy!" Davis said.

He built a passion for cooking the flavors of "traditional' barbecue while working as a traveling nurse in Mississippi, Arizona, South Carolina and other portions of the southern part of the country. He developed his recipes and methods as a barbecue fan, expanding his knowledge of the food by sampling authentic recipes and modeling his work after famous pit masters.

The MENU

LD's popular menu offers dine-in, carryout and catering options.

LD's customers can have their pick of pulled pork, sliced brisket, pulled chicken or smoked sausages, along with a choice of Davis's spicy or mild signature sauces.



Chicken - LD's favorite. Try our Family Chicken Dinner - 2# of sides and 4 pieces of cornbread!


Patrons can choose from sandwich selections like the McFarland (described as half pulled chicken, half pulled pork, all love) and the Drake, featuring pulled chicken, pulled pork and brisket. The menu also includes freshly baked bread, whole chicken, ribs and side items like coleslaw, corn bread, potato salad and ribs-n-beans.


Pulled Pork - Raising the bar, LD's new Pork Rub is making pork a Household name!

With a continuous line of customers, Davis and his kitchen staff have also been busy preparing specialty items, everything from ribs, meatloaf (on Wednesdays), nachos, daily soups like brisket chili to macaroni and cheese.



Mac - Mac and cheese like none other. Trottole Pasta holds the cheese sauce like an LD's Portion should!

The HOSPITALITY

LD's BBQ moved to East Troy in 2013 offering roadside inspired BBQ out of the BP gas station with just one smoker and one employee and no inside dining area.

The stop, inspired by the roadside stands and mobile trailers popular in states like South Carolina and Texas, quickly received top customer reviews and made best-of lists.

An expansion to allow dine-in followed in 2015, but Davis quickly experienced growing pains and was searching for an independent brick and mortar location.

LD's opened a 2,900 square-foot restaurant at 2511 Main St. in East Troy, the next step in the success story of LD's BBQ, which attracts devoted BBQ fans from Milwaukee, Racine, Chicago and everywhere in between.

The meat is cooked onsite in LD's BBQ trailers, (giving off that beloved aroma of smoked meats roasting over hard wood.)

The dining area features long community tables with large windows wrapping around the front of the building, showcasing BBQ culture to passersby on Main Street

"I see a lot happening at the current location. I want to have more outside events. I want to have more get-togethers, parties, new products. This is a great time to come to LD's, and it is a really great time for me because I am getting the creative juices flowing!" Davis said.

LD's BBQ is open Wednesday, Thursday and Sunday from 11 a.m. to 7 p.m. and Friday and Saturday from 11 a.m.-8 p.m.

For more information, visit www.ldsbbq.com or call (414) 610-7675.


LD's BBQ owner and pit master Leon Davis accepted the East Troy Area Chamber of Commerce Business of the Year Award in 2019.