Main Street in East Troy will get a giant makeover in 2021.
The project, which will stretch from Main Street at Highway 20 to Main Street at West Street, includes Village Square improvements and Walworth County Road ES resurfacing.
Village of East Troy officials gave us the latest updates on the project.
Q. When does construction begin?
Construction is estimated to begin on April 26 and is expected to be completed by mid-September with the following proposed schedule of work:
• April 26-May 30: ES/Main Street (East)
• May 31-July 4: ES/Main Street (West)
• June 14-June 27: ES Paving (East)
• June 14-June 27: ES Paving (West)
• May 31-Aug. 15: Village Square
• July 26-Aug. 8: Village Square Paving
• July 12-Sept. 19: Church Street
• Aug. 30-Sept. 12: Church Street Paving

Q. Can you give a brief overview of what the project entails?
This project will consist of road construction updates, enhancements to the Village Square, sanitary lateral and water main improvements, installation of curbs/gutters, sidewalks, and driveway approaches.
Village Square Exhibit
Church Street Exhibit
Q. What are the details on the road closures, detours, etc.?
The Village of East Troy held a Public Information Meeting to discuss the upcoming 2021 Main Street (CTH ES) Reconditioning (West Street to STH-20) with Improvements to the Village Square, Church Street & Division Street on Thursday, April 15 to provide information on the proposed improvements.
Representatives from the Walworth County Public Works Department, the County design consultant (Baxter & Woodman), the Village of East Troy, the Village design consultant (Lynch & Associates), and the general contractor (Wolf Paving) discussed the project and addressed questions and concerns.
We appreciated the large turn out and interest in this project and welcomed the questions, comments and support from the community. Construction is projected to start in May and the current construction schedule has been posted. We will post updated schedules as the project moves forward.
Project Map with Detour Information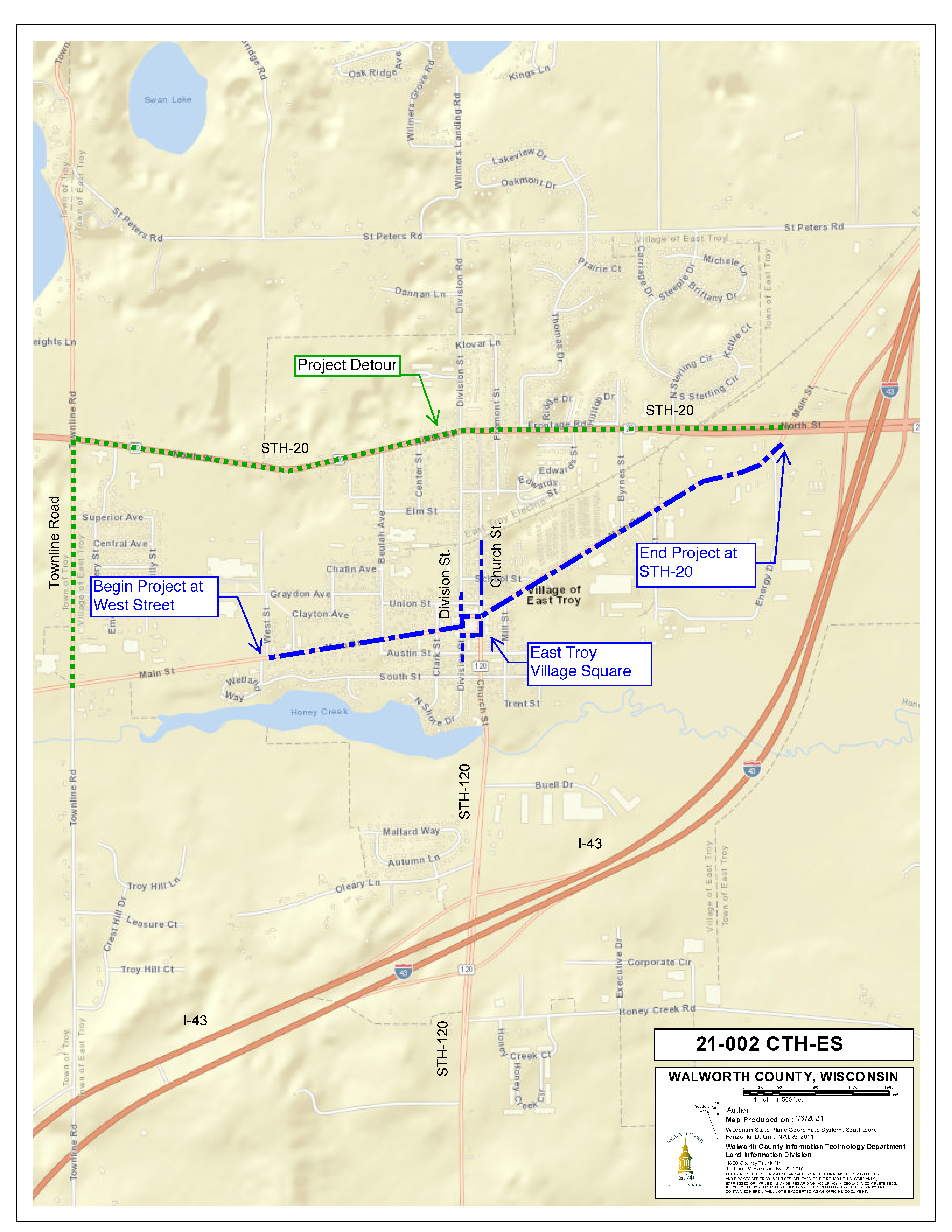 Q. How do we find out additional information?
We have created a page on our website, easttroywi.gov, dedicated to construction updates, including detour information, that residents and businesses can refer to.
Updates will be sent to those that have signed up for e-mail notifications via our website and we will post updates to Facebook and Instagram also.
Questions and concerns regarding the project can be directed to DPW Director Jason Equitz at (262) 684-5475 or jequitz@easttroywi.gov.
Q. What are you most excited about the project?
We are looking forward to the enhancements on the square!